Mirror Protocol, a decentralized finance (DeFi) protocol built on the Terra blockchain, was hit by one of the biggest collapses in financial history this week after Vladimir Putin ordered military strikes against Ukraine.
Terra tokens rally
Mirror Protocol's native token, MIR, dropped to $0.993 on Feb. 24, its worst level to date amid a selloff across the broader crypto market. But a sharp rebound ensued, taking the price to as high as $1.41 two days later, up more than 40% when measured from MIR's record low.
Just like the drop, MIR's upside retracement came in the wake of similar recoveries elsewhere in the crypto market. But interestingly, MIR/USD returns appeared larger than some of the highly valued digital assets, including Bitcoin (BTC) and Ether (ETH). 
Notably, Bitcoin rallied up to 17% after bottoming out locally on Feb. 24, below $34,500. In contrast, Ether's gains in the same period came out to be a little over 25% after bouncing from $2,300.
On the other hand, Terra (LUNA), whose protocol hosts the Mirror Protocol's synthetic assets platform, rebounded by more than 50% in the same period.
Interestingly, another Terra blockchain-backed token, Anchor Protocol (ANC), jumped more than 45% from its Feb. 24 low of $2.64, reaching its best level to date just shy of $4.
MIR paints a "golden cross" but…
The recent upside boom in the Mirror Protocol market also resulted in the formation of a so-called golden cross pattern.
In detail, MIR's 20-4H exponential moving average (20-4H EMA; the green wave) surged above its 50-4H EMA (the red wave), a move that typically follows up with a short-term uptrend, as per the Mirror Protocol's recent market history.
Nonetheless, the readings on the MIR's four-hour relative strength index (RSI) — which went above 70 during the weekend — alerted about its "overbought" status. That has coincided with a correction in the Mirror Protocol market, with MIR now down over 10.5% from its retracement high near $1.41.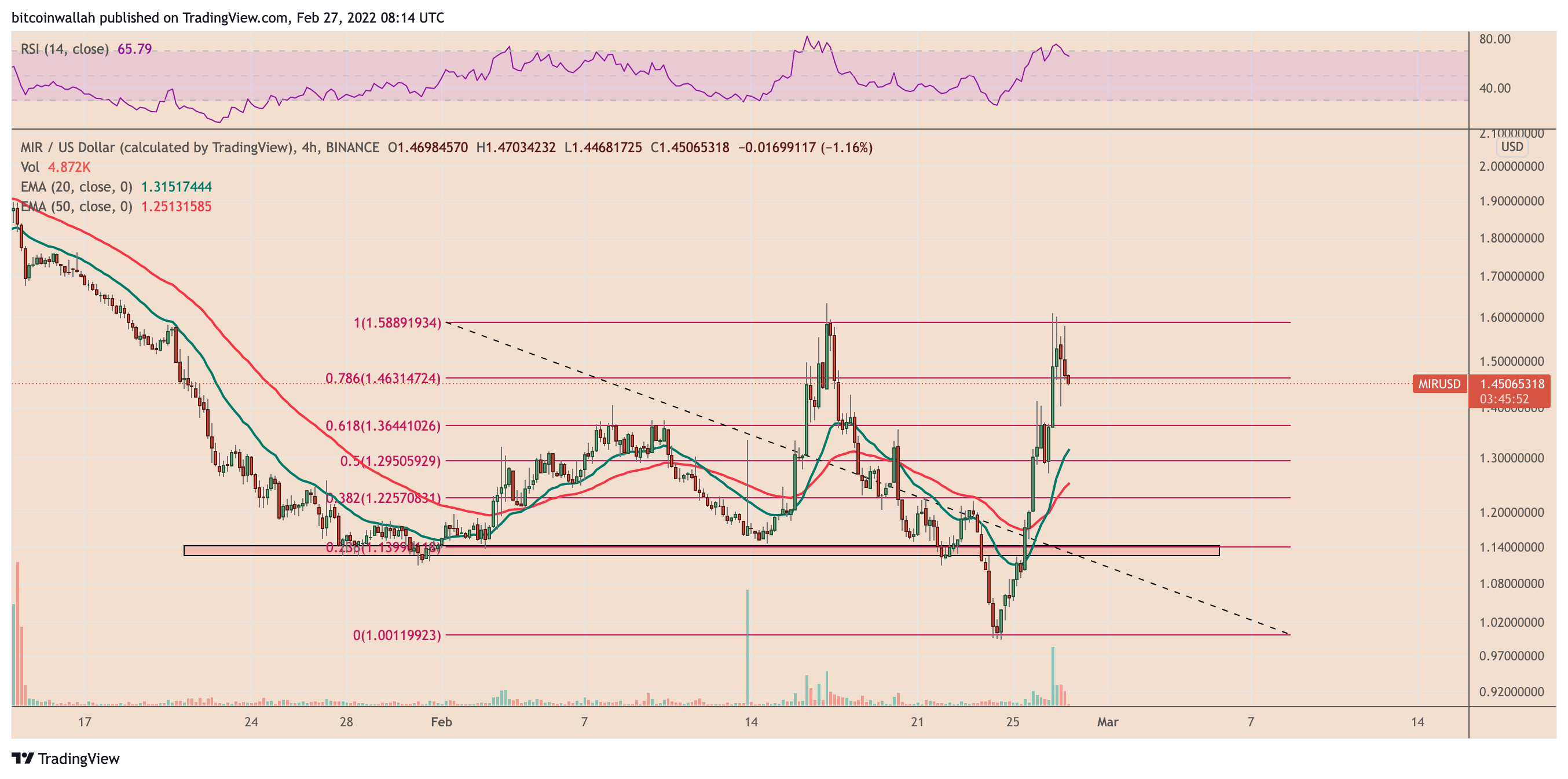 The decline has had MIR break below $1.36, one of its previous support levels that also confluences with the 61.8 Fib line of a Fibonacci Retracement Graph made from $1.58-swing high to $1.00-swing low.
The price now eyes additional drops toward the next support levels near the 0.5 Fib line around $1.29, followed by the 0.236 Fib line at $1.13.
Related: Cointelegraph Consulting: A look at Terra's ecosystem
Conversely, if MIR holds above its 20-4H and 50-4H EMAs, its likelihood of retesting $1.58 might increase. Its bullish outlook also depends on how the ongoing geopolitical conflict in Eastern Europe plays out, and its impact on Bitcoin.
Notably, the correlation coefficient between Bitcoin and Mirror Protocol sits near 0.75 above zero, meaning MIR price is more or less mirroring the moves of the top digital asset for the time being. 
The views and opinions expressed here are solely those of the author and do not necessarily reflect the views of Cointelegraph.com. Every investment and trading move involves risk, you should conduct your own research when making a decision.