The upcoming Ethereum merge is one of the most widely discussed topics in the crypto sector and analysts have a wide range of perspectives on how the transition to proof of stake could impact Ether's price. 
Whales accumulate ahead of the merge
A deeper dive into the ongoing accumulation of Ether by whale wallets was provided by cryptocurrency intelligence firm Jarvis Labs, which posted the following chart looking at the percentage change in whale wallet holdings versus ET price.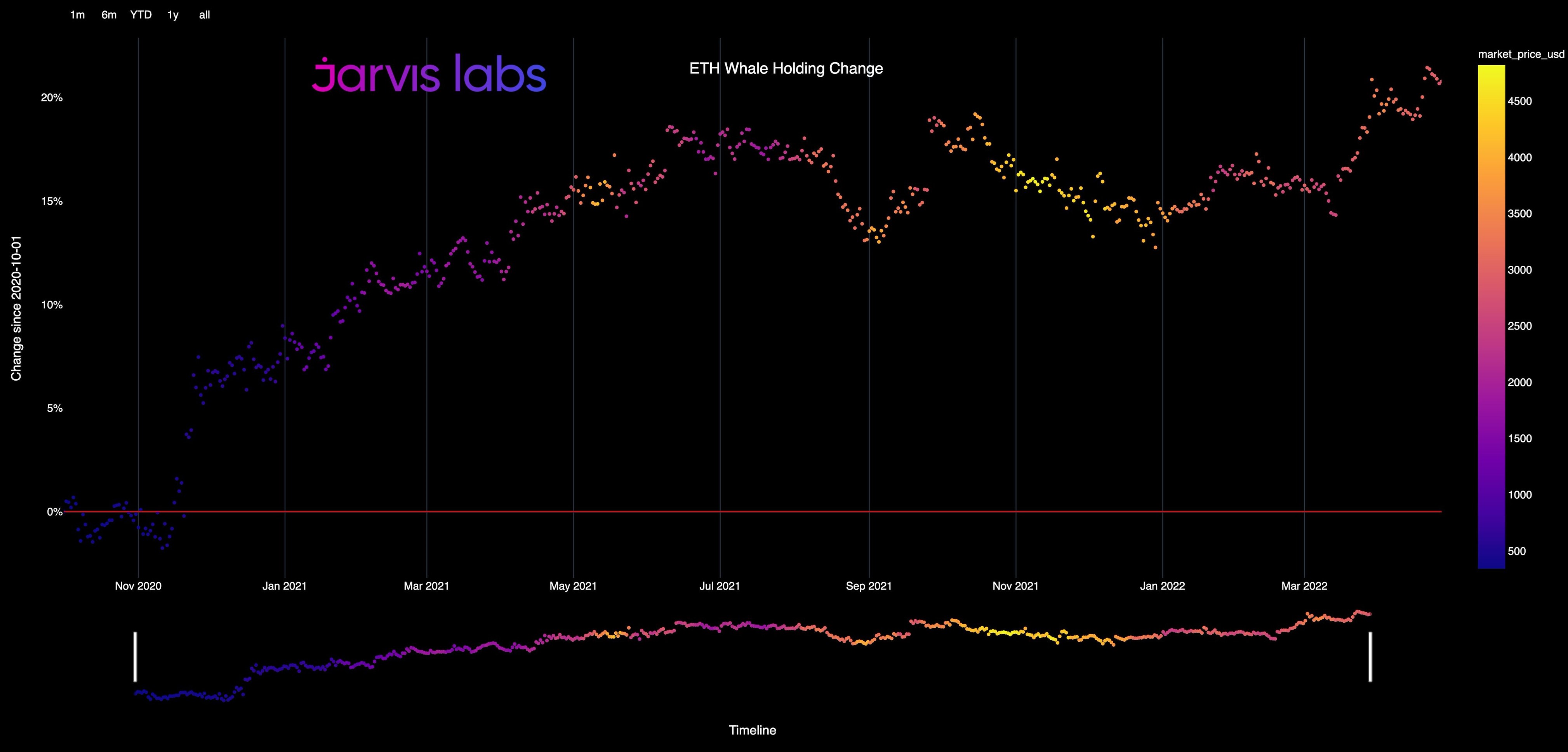 The color of the dots relates to the price of Ether, with the chart showing that whale wallets began decreasing their holdings when the price was above $4,000 and they didn't start to reaccumulate until after the price dropped below $2,300.
Jarvis Labs said,
"Whales are continuing to accumulate Ether, their accumulation remains in sideways-to-uptrend."
And it's not just the whales who are looking to scoop up Ether on the dip as shown in the following chart where red dots indicate that both whale wallets and smaller wallets have seen an increase in accumulation. 
Analysts at Jarvis Labs said,
"Looking at just the Ether wallets distributions, it can be inferred that Whales UP + Fishes UP (Both whales and Fishes seem to be accumulating). Merge narrative?"
Is an Ethereum decoupling on the horizon?
Analysts at Delphi Digital contemplated whether Ethereum price could decouple from BTC leading into or after the merge. The analysts also predict that the altcoin is "likely to see more consolidation for ETH/BTC in the short run."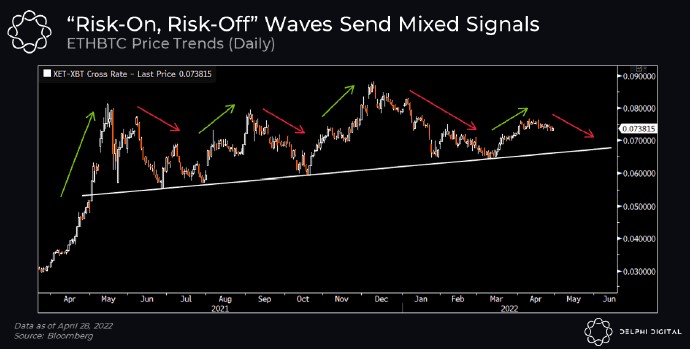 One of the main questions this chart elicits is what will it take for Ether to break free from "the invisible chain" that has kept it tethered to Bitcoin for so long.
According to Delphi Digital, the current bullish "ultrasound money" and "Merge" narratives surrounding Ether might be just the thing to help Ether break free from its correlation to Bitcoin price action.
Delphi Digital said,
"The interest in "post-Merge" Ether is only going to get stronger from here, especially as more people recognize the opportunity to earn higher real yields denominated in a deflationary asset."
Ether staking gains momentum

Even with Ether price continuing to decline, data shows that the number of ETH staked on the beacon chain continues to increase. Data from Dune Analytics also shows increasing deposits to Eth2 and multiple analysts have shared their view on how institutional investors and whales might trade Ether in the pre and post Merge phase.

Overall, the data shows that even with Ether price trading 42.5% away from its all-time high, the smart money continues to accumulate due to the expected boost in the staking reward percentage and anticipation that price will turn bullish once Ethereum becomes a deflationary asset.
The views and opinions expressed here are solely those of the author and do not necessarily reflect the views of Cointelegraph.com. Every investment and trading move involves risk, you should conduct your own research when making a decision.