Panelists at the recent MENA Climate Week 2022 examined how blockchain technology can contribute to green initiatives.
Hosted by Dubai's Ministry of Climate Change and Environment, Dubai Electricity and Water Authority, and the World Green Economy Organization along with various institutions under the United Nations Environment Programme and in partnership with renewable energy groups, the event explored how to promote climate action using digital innovations.
In one session, a hybrid panel made up of experts in blockchain and climate action discussed how blockchain use cases can contribute to a greener future in the Middle East and North Africa (MENA) and globally during the event held in Dubai, United Arab Emirates.
The session, titled "Transformative Climate Action through Digitalization: Blockchain Technologies," grabbed insights from prominent blockchain figures Dr. Marwan Al Zarouni of the Dubai Blockchain Centre, Dr. Jane Thomason, Frontier Technology Leader and Cointelegraph's own editor-in-cheif Kristina Lucrezia Cornèr.
The blockchain figures are joined by climate advocates Sami Dimassi of the UN Environment Programme, Dr. Miroslav Polzer of the IAAI, Tia Kansara of Replenish Earth, Her Royal Highness Princess Abze Djigma of Burkina Faso, who is also a member of the African Union and European Union Digital Economy Task Force, Dr. Massamba Thioye of the UNFCCC Global Innovation Hub and Youth Climate Action Leader Ameera Al Haranki. Each shared their perspectives and knowledge on how they can see blockchain being connected to climate action initiatives.
In his opening remarks, Sami Dimassi, Regional Director and Representative of the UN Environment Programme for West Asia highlighted several actions that can be done to "tap into blockchain use" in contributing to climate actions. He noted promoting shifts in policies, bringing technological evolution to the climate sector and increasing awareness and collaboration between communities.
During today's event on Transformative Climate Action through Digitalization at #MenaClimateWeek @samidimassi_UN highlighted the importance of Blockchain technology and their potential in relation to transparency, clean energy attribute, carbon markets and climate finance. pic.twitter.com/pj8JcLwUfc

— UN Environment Programme West Asia (@UNEP_WestAsia) March 29, 2022
Promoting shifts in policies and government regulations
According to Dimassi, because there are many growing climate issues in the world today, it's necessary to promote government regulations and policies that enable people to adopt digital innovations such as blockchain technology. The UN director noted that blockchain is itself just a neutral technology and that it's up to the users what they do with it:
"Blockchain can improve efficiency and transparency in climate actions if it's used in the right manner. Blockchain in itself is neither good nor bad for achieving climate targets. It depends on what we make of it."
He said that the case for digital transformation is very "compelling," and that solutions like blockchain can be a great asset to support transformative climate action because of their inherent abilities.
Apart from Dimassi, Al Zarouni also highlighted efforts within the UAE government to support the adoption of blockchain technology. Al Zarouni noted the Dubai Blockchain Strategy, a government-backed effort to push blockchain adoption in the region.
He also stated that his organization, the Dubai Blockchain Centre, is focused on helping the ecosystem within the UAE understand blockchain technology and focus on discussions that bring together regulators, educators and community members to get to know the technologies behind blockchain.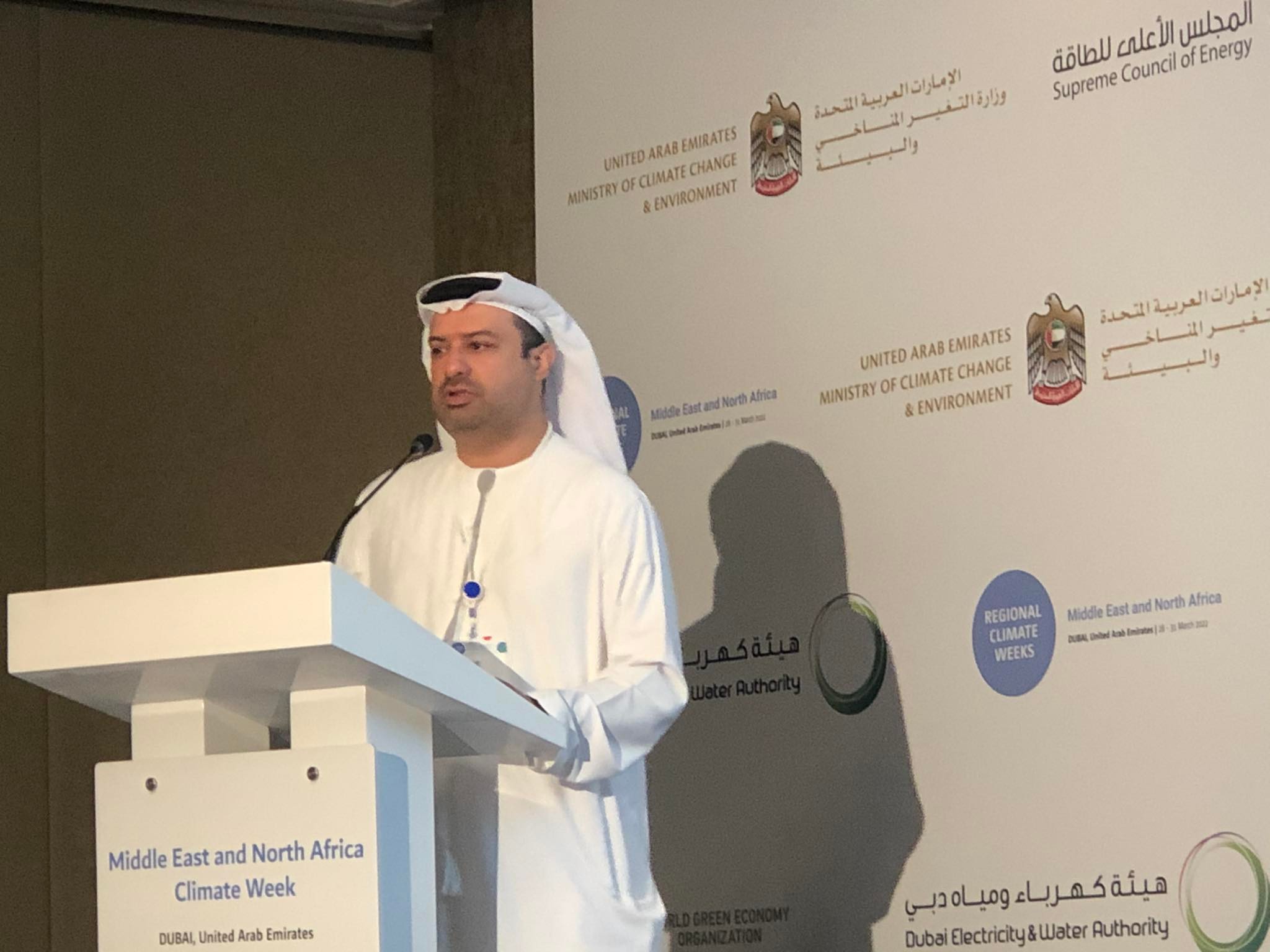 Bringing 'technological evolution' to climate action
Thomason highlighted the many ways how technological evolution is being brought to the climate sector through existing blockchain initiatives. According to Thomason, blockchain technology is currently contributing to climate action goals through green digital asset projects, smart grid management, nonfungible tokens and gamification, measurement and reporting, and the use of decentralized autonomous organizations for climate action.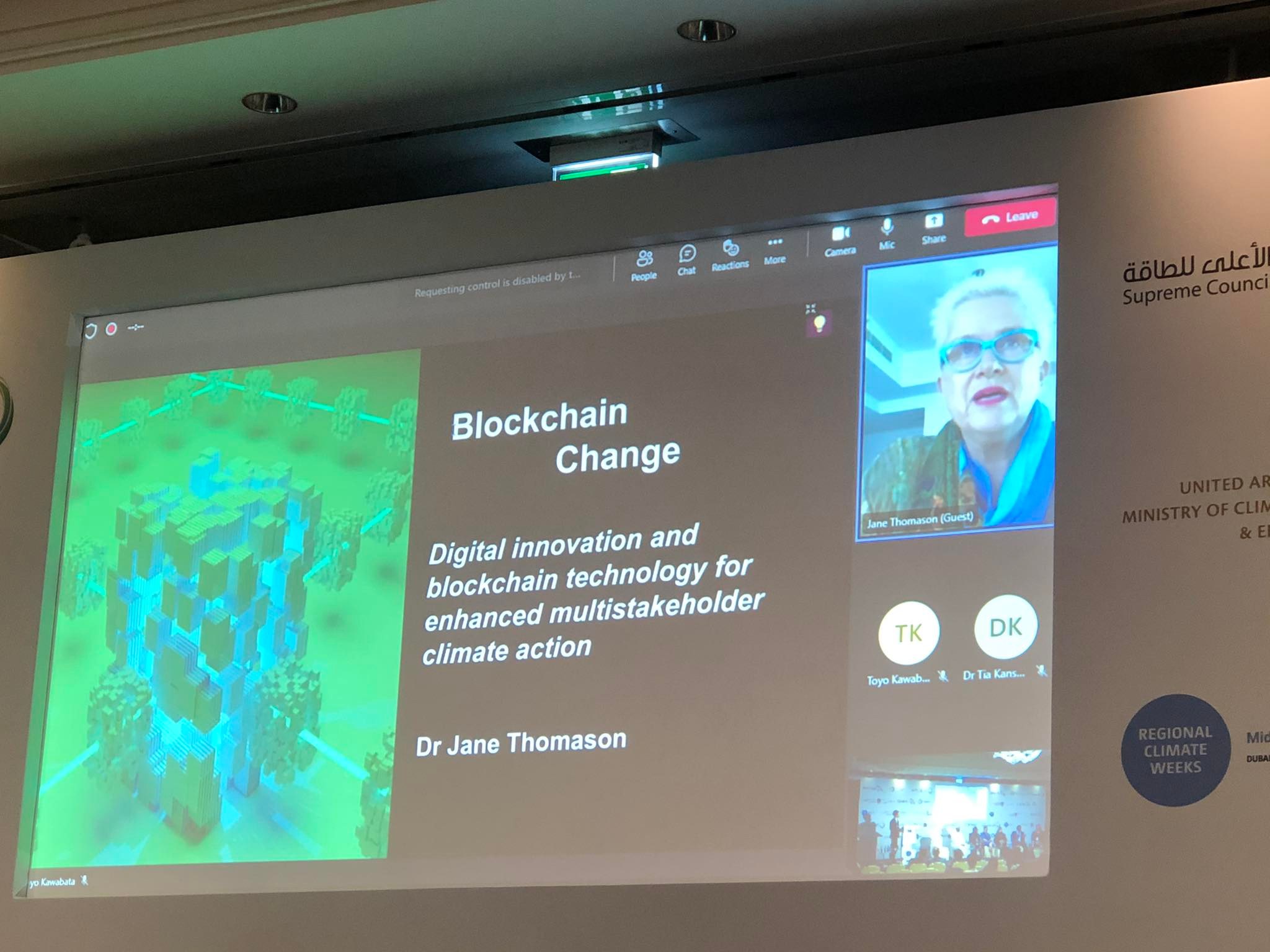 Thomason also noted one of the inherent characteristics of blockchain which is transparency, stating that blockchains can be used to automate the detection of environmental contributions and reward contributors with tokens. She explained: 
"Blockchains can automate measurement and remunerate those responsible for positive contributions to individual areas, which benefits the environment as a whole."
Apart from Thomason, Thioye also recognized what blockchain can do for climate action during his talk. Thioye believes that current green initiatives could "definitely improve" the climate in the long run through incremental effects. However, by bringing blockchain tech into the mix, the sector could solve issues that are "in front of us."
"If we combine IoT for the production of data, blockchain for the transfer, artificial intelligence for the processing, and cloud computing with its almost infinite storage capacity, and quantum computing which can greatly increase the computing speed, we can build something very powerful." 
Related: UAE regulators pave way for crypto and blockchain adoption, says legal expert
Increasing awareness and collaboration
Youth Climate Action Leader Ameera Al Haranki noted that action for climate empowerment is crucial and increasing awareness and collaboration within this sector is very important. While she doesn't claim to be an expert in blockchain, the youth leader said that she "sees potential" in the technology to be used in climate action.
"We need to engage the youth and all members of the society in climate action to learn more about what's going on," said Al Haranki. The youth leader mentioned the need to provide the necessary tools such as education, training and public awareness to preserve the future for the next generations.
During the panel, Cornèr, the editor-in-chief of Cointelegraph, also explained that the blockchain community is characterized not only by transparency but also by collaboration. According to her, this manifests in the many readily-available open-source tools brought by members of the community:
"You can actually search for solutions and the quickest way to achieve them with different tools. And this is what the blockchain community is about. […] You can find open-source tools that are available for building your projects."
Cornèr also noted that, through informative and educational content in the blockchain media, the climate action community can learn about new terms and tools to aid it, as well as give a voice to those working toward climate action.